Fifth Annual March Market Madness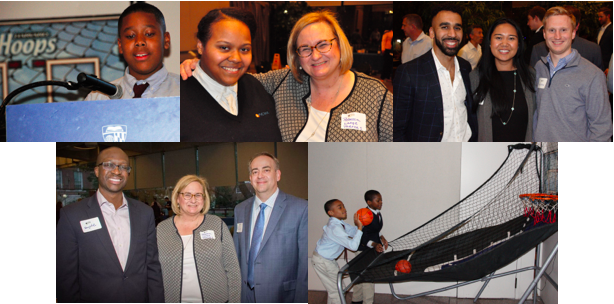 March Market Madness 2019
March Market Madness would not be possible without the support of our sponsors, donors, and the large group of generous volunteers, including SIF board members and other champions. Thank you to everyone who made the event a succes
The Fifth Annual March Market Madness, was a meaningful gathering for all who attended. As in years past, members of Baltimore's financial services community and of the community-at-large came together to support the SIF mission while enjoying a fun evening out. The event featured hors d'oeuvres and a wine & craft beer bar and included a large silent auction with over 65 packages, a raffle, an arcade basketball free throw contest, and great networking opportunities. One highlight of this year's March Market Madness was certainly the outstanding program of speakers.
The evening's program gave attendees to hear firsthand how Stocks in the Future's financial literacy program impacts students in underserved communities. Guests were enthusiastically welcomed by Ms. Afra Vance White, Director of External Affairs at The City of Baltimore Mayor's Office. Ms. Teresa Scott, principal of St. Ignatius Loyola Academy spoke eloquently about her belief in the SIF program and the success she has witnessed. She then introduced a group of her middle school students who entertained the crowd with a lively presentation. Following the current students, Pearl Smith of PNC, a SIF alumna, gave a moving testimonial about how exposure the program impacted her future choices and career trajectory.
Carol Croxton, a member of the SIF Marketing Committee, introduced the extraordinary Keynote Speaker, Dr. Tracey L. Durant, Director of Equity at Baltimore City Public Schools. Dr. Durant left the audience speechless with her fascinating presentation, which was worthy of a TED Talk.
The recipient of the 2019 Community Impact Award was Dr. Faith Hibbert, principal of Fallstaff EMS. Dr. Hibbert has been a devoted supporter of the SIF program for nearly two decades as she has recognized the impact it has had on scores of students under her
care. Krissy Vetre, 7th/8th grade teacher at Fallstaff accepted the award on her behalf and gave her own testimony about her belief in the program and how she learned alongside her students over the years.
The program closed with an expression of gratitude to the evening's many sponsors, donors, presenters, and attendees by Rebecca Lange-Thernes, Executive Director of Stocks in the Future. Ms. Lange-Thernes shared her passion for the mission of the program and some examples of the ways in which she has seen the programs touch participants—students, alumni, administrators, teachers, and volunteers.
S&P 500 2019 Final Closing Bell Contest
Predict the 2019 year-end number of the S&P 500–you can support a worthy cause and have a chance at winning some serious cash! The participant with the closest guess wins 40% of the total ticket sales. The runner-up wins 10%. 50% of all proceeds support Stocks in the Future (SIF).
Prices now through July 31, 2019
☐$20 One Guess ☐$35 Two Guesses ☐$50 Three Guesses
Prices beginning August 1, 2019; bidding ends on
September 30, 2019
☐$30 One Guess ☐$50 Two Guesses ☐$75 Three Guesses
You can enter the contest one of two ways:

Click the button below which will direct you to PayPal

Log in
Click "Send"
Enter email: SIFadmin@jhu.edu
Enter your guesses (either 1, 2, or 3) in the "Add a Note" box. Please separate your numeric guesses with a semi-colon.
See above for details on ticket prices

Print This Form and return to the address below along with a check made payable to Stocks in the Future. If you prefer, we can put you in touch with a member of the SIF Board of Directors
Stocks in the Future
2800 N. Charles Street, Suite 420
Baltimore, MD 21218
Photos From March Market Madness 2019